Our Mission
To advance the state of database connectivity on the Macintosh.
Our products include:
Mac ODBC drivers for popular databases
File conversion utilities to integrate Macintosh applications with their Windows counterparts
Macintosh applications for managing database servers and manipulating data
If you would like to contact us, please send us an e-mail (se habla español):
The fastest and most efficient method of communicating with us is through the e-mail addresses above. However you may also contact us by postal mail or by phone:
Postal Mail
Actual Technologies, LLC
872 S Milwaukee Avenue #114
Libertyville, Illinois 60048

Phone: +847 367-5199
FAX: +847 868-9270

NOTE: we cannot provide technical support over the phone. We work hard to give timely and thorough technical support by e-mail.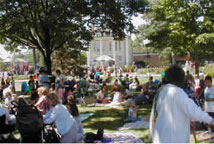 Lunch In The Park, Libertyville, Illinois, USA